A new stone-effect collection that interprets, with total accuracy, the natural charm and stylistic appeal of slate
5 colours
GLADE, CREEK, CREST, ABYSS, HOLLOW
1 thickness
6 mm
3 sizes
60x120, 120x120, 120x278 cm
ZERO.3 Stone Trace style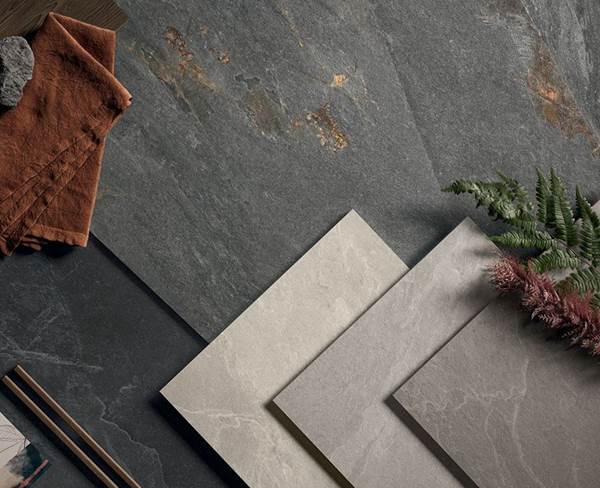 Slate perfectly interpreted in ceramic
A versatile stone with strong, yet discreet tactile and chromatic characteristics that perfectly integrate into the context in which they are inserted, creating an ideal scenario for contemporary interior design elements. The intense colour, the original surface shades and the chromatic balance make slate an elegant background solution to decorate the home.
All the expressive power of large slabs
The 120x278 cm format, which is particularly effective for cladding applications, creating wall effects that guarantee a seamless design and the option to cover architectural spaces with a natural-looking second skin. Large and ultra-thin slabs: just 6mm thick, these slabs can be laid over existing floors, making it possible to renovate spaces more easily, quickly installing slabs without the need for demolition.
Other reasons to choose Zero.3 Stone Trace ANTIBACTERIAL SURFACE
PROTECT® is an exclusive collection of high-performance, anti-bacterial floor and wall coverings in porcelain stoneware, perfect for a safe, hygienic and protected home.

ESTETICA UNICA
Different natural shades and embracing nuances emphasize and embellish the surface. The dynamic textural effect is rich in details and it faithfully reproduces the natural beauty of slate. A UNIQUE AESTHETIC
Grande, ottimale, versatile: la dimensione di 120x278 cm consente nuove soluzioni per la progettazione. Con sorprendenti qualità di durevolezza e resistenza superiori ad ogni altro materiale, riveste gli interni e gli esterni con un risultato potente e avvolgente.